CarePro comes with a powerful emailing feature that enables you send out instant or scheduled messages with various types of attachments. It also supports message templates that enable you easily send common email content to users.
To create a new message, go to 'Messaging'-'Email'-'Create Message'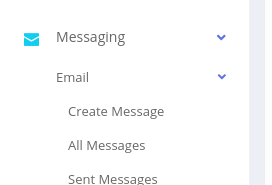 This brings up the screen for creating a message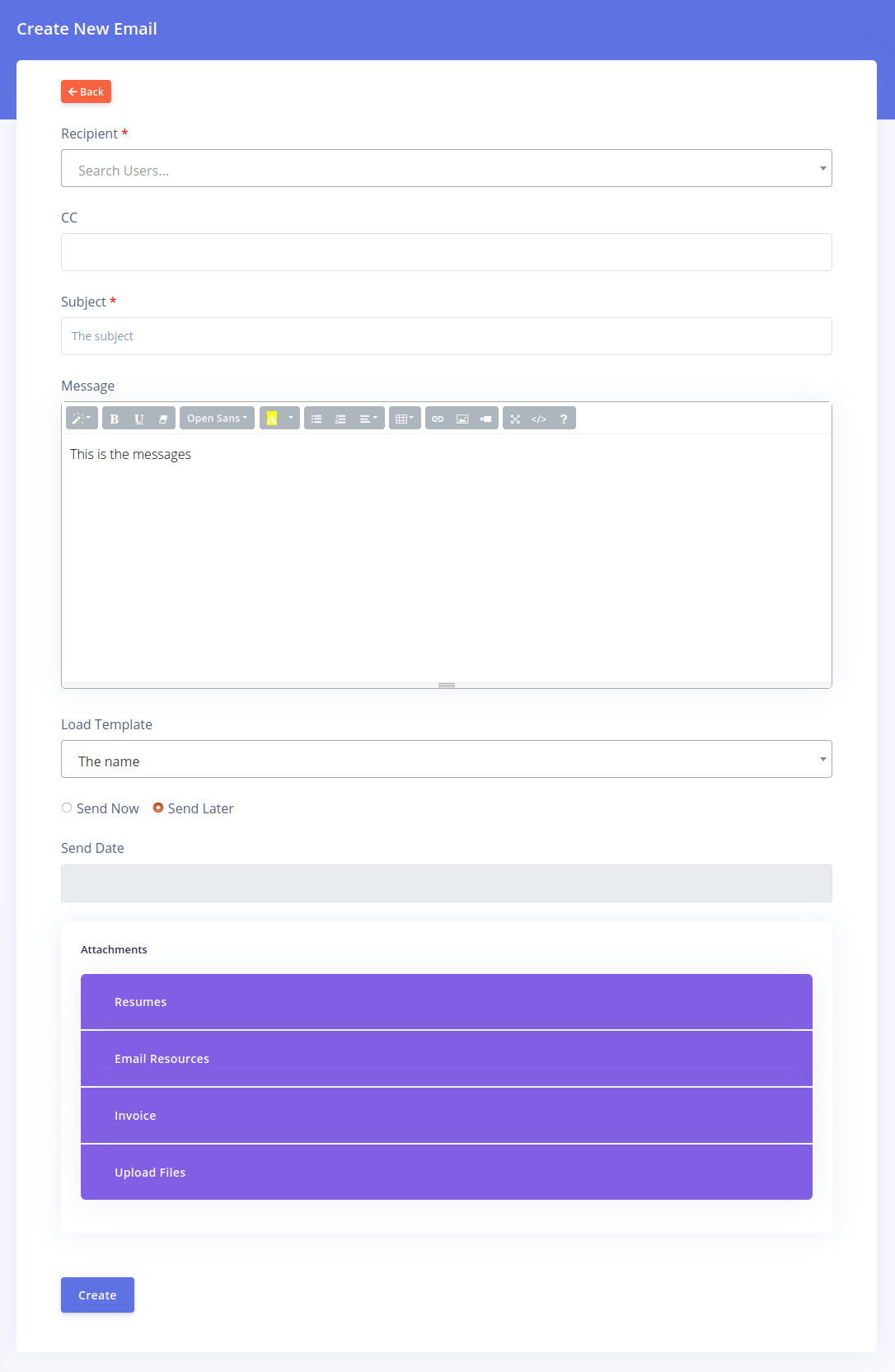 The fields in this page are described below:
Recipient: Messages are sent to users that already exist on the platform. Click on the dropdown and start typing the name or email of a user. Users can either be employers or candidates.
CC: you can send a copy of the email to any email address. You can type multiple email addresses here. Each email must be separated by a comma.
Subject: Enter the subject of the email here.
Message: Enter in the full content of the email here.
Load Template: This dropdown displays the list of email templates you have created. Selecting a template from this list automatically loads it's content into the 'Subject' and 'Message' fields.
Send Now: Select this option if you wish for the message to be sent immediately.
Send Later: Select this option if you wish for the message to be sent at a scheduled date. If you select this option, the 'Send Date' field will become visible below it.

Send Date: Specify the date you would like this message to to be sent. Please note that messages are sent at midnight of the date you specify.
ATTACHMENTS

One of the main features of the messaging feature is to enable you easily send special attachments generated by or stored on the portal. The various panels of the 'Attachments' section are explained below
Resumes: This enables you to easily send resumes of candidates to employers. Resumes are generated based on the candidate's profile on the system and not their uploaded CVs.


The 'Candidates' dropdown enables you to search for a candidate using their name or email. Start typing the name of a candidate and select the candidate from the dropdown. You can add as many candidates as you wish. The 'Resume Type' field enables you specify if you wish for the generated Resume to be full or partial. Partial Resumes will exclude candidate profile sections that have the 'Visible to public and in partial profiles?' option set to 'No'.
Email Resources: Email resources are files you have uploaded previously for easy reuse in email messages. Select as many files you wish to add to this list and they will be attached to the sent email.


Invoice: This allows you to generate an invoice and attach it automatically to the email. A PDF version of the invoice will be attached to the email and a link for online payment will also be attached automatically.


Upload Files: You can use this to easily upload attachments from you computer for this email alone


Click on the 'Create' button to create your message.