Staffing Agency Software for Domestic Staffing Agencies
Do you run a Domestic Staffing agency (e.g.Nanny, Elderly Care, Cleaning, Chauffeur etc)? Then you have come to the right place! CarePro is the software built just for agencies like yours! CarePro is a PHP web application that enables you effectively manage all aspects of your agency's operations. With features such as Order Management, Employer and Candidate Management, Placements Management, User Records, Candidate Recruitment and lots more, your agency will never be the same again! Buy our system and install on your server with just a few clicks! With CarePro, you can be up and running in minutes!
Sold and Quality Checked by Envato
Order Management
Employer & Candidate Management
Placement Management
Invoicing
Vacancies & Recruitment
Supports Multiple Payment Gateways
Computer Based Testing for Candidates
Email messaging
SMS Messaging
Powerful website builder
Free WordPress Plugin
One time payment
Easy setup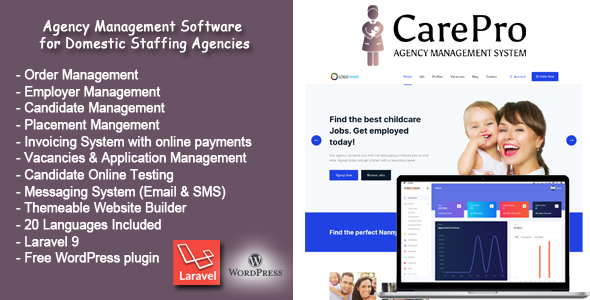 Features
CarePro FAQ
CarePro was developed for all types of domestic staffing/recruitment companies. Such companies includes Nanny agencies, Elderly care agencies, Domestic staffing agencies etc.
No. There are no recurring fees once you buy the self hosted CarePro version. You get to install CarePro on your own server and you can use it indefinitely.
You can have an unlimited number of users of any kind including admins, employers or candidates.
Got questions? Get in touch now!